In the dynamic world of telecommunications, efficient billing and operational support systems (OSS) play a crucial role in delivering seamless services to customers. As the industry evolves and becomes more complex, the integration of innovative technologies like postpaid billing solutions has become essential for telecom companies to enhance their offerings and customer experience.
OSS Billing Solutions: Fueling Telecom Efficiency
Operational Support Systems (OSS) are the backbone of any telecom operation. These systems streamline the entire lifecycle of network services, from order creation to service activation, provisioning, and even ongoing maintenance. OSS billing solutions, in particular, are a vital component of this ecosystem. They not only handle billing processes but also assist in automating service delivery, improving resource allocation, and boosting overall operational efficiency.
Key Advantages Of OSS Billing Solutions:
1. Automation and Accuracy: Manual billing processes can be error-prone and time-consuming. OSS billing solutions automate billing calculations, reducing the likelihood of errors and ensuring accurate invoicing. This leads to higher customer satisfaction and minimizes disputes related to billing discrepancies.
2. Real-time Monitoring: Telecom companies can gain real-time insights into usage patterns, allowing them to adapt their offerings and pricing strategies based on customer behavior. This data-driven approach enhances decision-making and enables companies to stay competitive in a rapidly changing market.
3. Customization and Flexibility: OSS billing solutions offer the flexibility to create tailored billing plans for different customer segments. This customization enables telecom providers to meet diverse customer needs while optimizing revenue generation.
Postpaid Billing Solutions: Revolutionizing Customer Billing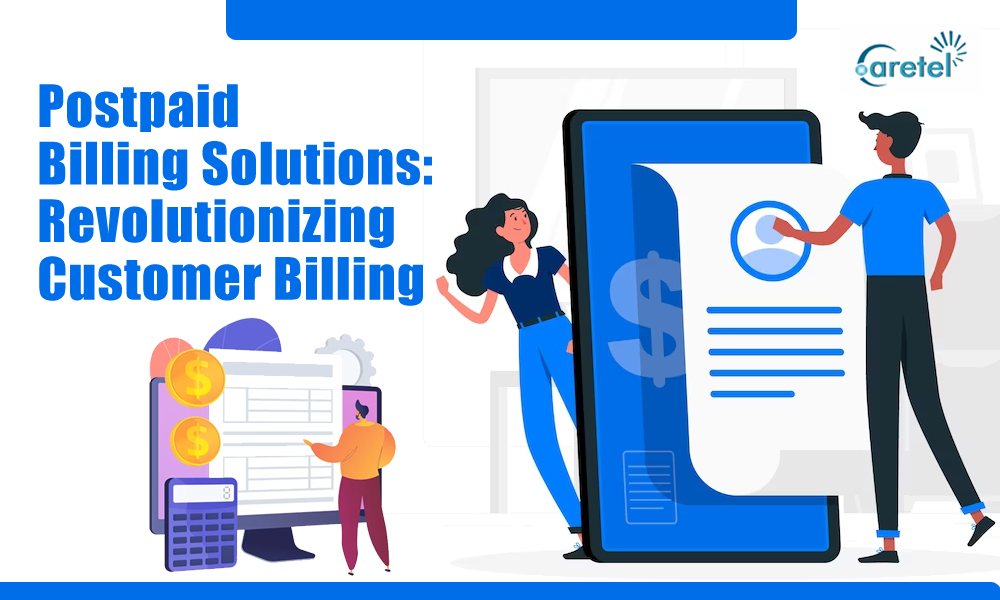 Postpaid billing solutions have revolutionized how telecom companies handle customer billing and engagement. Traditionally, postpaid billing involved manual processes and delayed notifications. However, with postpaid billing solutions, telecom providers can offer real-time billing information, personalized plans, and convenient payment options to their customers.
Key Benefits of Postpaid Billing Solutions:
1. Real-time Usage Tracking: Postpaid billing solutions allow customers to track their usage in real-time. This transparency empowers customers to manage their consumption and adjust their usage patterns accordingly.
2. Flexible Plans and Upselling Opportunities: Telecom companies can leverage postpaid billing solutions to offer personalized plans based on customer preferences and usage history. This opens up upselling opportunities and enhances revenue streams.
3. Convenience for Customers: Postpaid billing solutions provide customers with convenient ways to view and pay their bills. Mobile apps, web portals, and SMS notifications allow customers to stay informed and engaged with their billing information.
Enhancing Customer Experience With Telecom Billing Services:
Telecom billing services encompass the entire process of generating invoices, processing payments, and managing customer accounts. These services are designed to streamline the billing process, optimize revenue collection, and improve the overall customer experience.
Key Aspects of Telecom Billing Services:
1. Efficient Invoice Generation: Telecom billing services ensure accurate and timely invoice generation, reducing billing errors and disputes. Clear and comprehensible invoices enhance customer trust and satisfaction.
2. Multiple Payment Channels: Telecom billing services provide customers with a variety of payment options, including online portals, mobile apps, and automatic payment setups. This flexibility caters to diverse customer preferences and improves payment efficiency.
3. Prompt Issue Resolution: In cases of billing discrepancies or issues, telecom billing services offer a swift and systematic resolution process. This minimizes customer frustration and maintains a positive brand image.
In conclusion, the integration of OSS billing solutions and postpaid billing solutions has transformed the telecommunications industry. These technologies enhance operational efficiency, improve customer engagement, and contribute to revenue optimization. Telecom billing services play a pivotal role in providing a seamless billing experience for customers while maintaining data security and compliance. As the industry continues to evolve, these innovations will continue to shape the future of telecommunications, creating a more dynamic and customer-centric landscape.