One may say that loyalty has become a rare virtue in today's modern times. With too many options to choose from, it is easier than ever to get confused and keep hopping from one to the other. But deep down inside, everybody prefers to settle and be stable. Loyalty is actually comfortable because it saves us from dilemmas of decision making each time. We are all looking for somebody dependable and trustworthy, not just in relationships but also in business!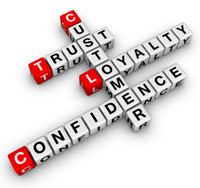 We all want to find reliable products, which we can buy without a second thought. Products that promise us quality!
And if ever we face any troubles with the product, then there would be a good customer service to help us through.
So as customers, the essential things which we are looking for are:
Ease of buying the product
Ease in using the product
Easy resolution in case of any troubles with the product
 And if a customer finds all these three together, then they automatically become loyal to the product. Or the brand should we say!
 Brand loyalty is not easy to come by. A company ought to strengthen its business support system if it wants to be the stronger player in the business.
A company should opt for a customized BSS solution that is able to compress complex functions into a simple user interface. Like in the case of telecom solutions, if all the services requested by the customer like activation of connection, activation of VAS, billing etc. can be performed without much hassle, then the customer will definitely prefer this brand, again and again.
So the companies which want to develop brand loyalty must focus on integrating their business functions. The backbone of OSS and BSS billing solutions makes a business taller in the market than the rest.